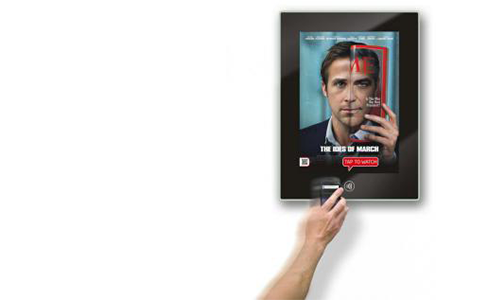 Smart posters leading the way in mass adoption of NFC technology
Market intelligence company ABI Research have released a report this week focusing on the possibilities of NFC tags in non-payment applications with some promising findings for mass market adoption of smart posters.
The report identifies that smart posters and other related marketing applications at present account for more than 50% of NFC tag shipments from major manufacturers. This figure is set to rise to 70% in 2016 as marketing related services become the principal application for NFC tags. The report follows an increasing demand on ABI for data on non-payment applications, suggesting that consumers are more inclined to engage with marketing related applications, which do not harness the security concerns of the payment counterpart.
As standards within the contactless payment sphere continue to be addressed, we can expect to see more consumers happily tapping their NFC-enabled smartphones to smart posters that provide a safe and enjoyable engagement experience. The report highlights the foundation of this behaviour is centred on confidence that redeeming a voucher using a smart poster does not carry the security risks of paying for your lunch via the same technology.
The report statistics show the increasing demand for NFC tags will be persistent as more service providers begin to recognise the value of the technology beyond payment applications. Smart posters are favoured for their opt-in nature, interactivity, creativity and power to build customer loyalty.
The supremacy of NFC marketing took centre stage back in September when the first NFC billboard was erected in New York's Time Square where the capability of the technology was on display in a 38 feet call to action. The billboard interacted with NFC smart poster on the street so passersby could view advertisements, 'Like' brands on Facebook or make purchases via their smartphones. This iconic campaign really triggered a buzz in the technology world, confirming the power of NFC marketing, which certainly adds authenticity to ABI's report.
The approaching weeks and months will undoubtedly give way to more extravagant smart poster campaigns, maybe we'll see a smart poster to rival the one on Times Square. That certainly would be a challenge! In the meantime we can all look forward to banishing our inner-technophobe and embracing the presence of yet another new technology in our world that has the ability to transform the way we communicate with brands and marketing messages.